May 19, 2009

"Bread feeds the body, indeed, but flowers feed also the soul."

From Oliver...
Fundraiser Weekend
I just finished writing the last check to a worthy group for their participation in our fundraiser weekend. Despite a downpour of rain on Saturday and a very cold windy day Sunday supporters for a number of non profits from Churches to the Humane Society shopped with us so a portion of the sales would go to their favorite charity. One group, the Fulton 1st United Methodist Church did especially well. I'm sure that's because Ivan Coant gave them a little pep talk about "his plant sale". I can only imagine how he works fire and brimstone in with buying flowers at Paine's! I am proud to say that we donated $1490.62 to some very deserving charities. Thank you everyone.
---
Something NEW!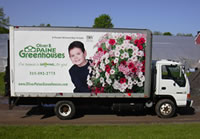 You may have already seen our "new" delivery truck around town. Well it's our 10 year old truck with a new wrap on the side. No it's not Billy Fuccilo on a bus it's our "new" grandson Eric! Guess we won't have to carry the pictures in the wallet!
---
Insecticidal Soap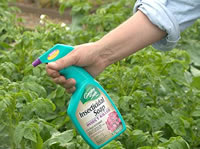 P Allen Smith has a very good article on Insecticidal Soap, I thought you might find it both interesting and useful. OBP

"One of my weapons in the battle against garden pests is insecticidal soap. It goes after many of the soft bodied pests such as aphids and spider mites, but won't harm the beneficial insects I rely on such as lady bugs, bees and praying mantis." (See the rest of the article)
---
Newsletter Special

Special for e-mail newsletter readers only. Print this newsletter and bring it with you for 10% OFF any pottery purchase between now and the end of May.