From Oliver...
Mums the Word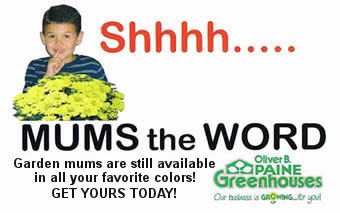 Mums, mums, mums! We have lots of different varieties, so you can find a color that's just right for you!
---
Pumpkins!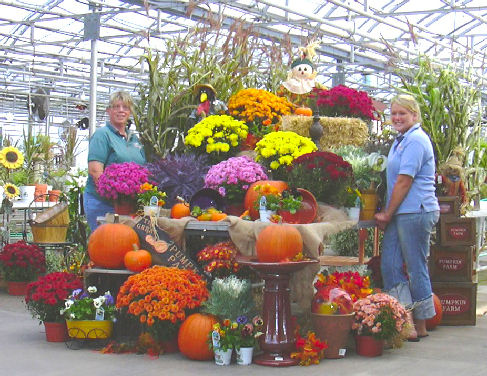 Besides mums we have a wonderful selection of pumpkins.... Big ones, small ones, and many just right for carving. We also have corn stalks, bales of straw, gourds, and so many great things to make your fall decorating the hit of the neighborhood.
---
Announcing a new offer:
CINDY'S CHRISTMAS CASH
For every $10 purchased from Sept 1 to Oct 31st you get $1.00 in Cindy's Christmas Cash. This can be redeemed Dec 1st to 24th for up to 50% off your purchase
As a member of our e-mail newsletter group, we'd like to kick off our Cindy's Christmas Cash program by giving you $5 in Christmas Cash to use during December on anything at the greenhouse, part of our way of thanking you for your continued support.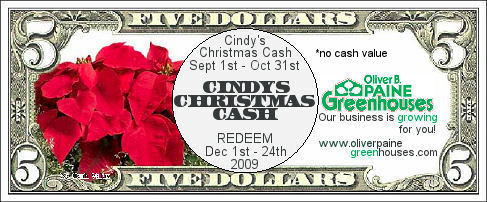 ---
Extra, extra! Read all about it!
Cindy and Diana recently attended a three day perennial conference. While there they listened to some of the countries top experts discuss the latest introductions as well as exciting ways to use them. They also learned much about the common pests and how to control them. With all they learned you can expect some spectacular perennials for 2010!
Our next newsletter will have a special on preparing your perennials for winter from Cindy... straight from the conference!
---