From Oliver...
Just a reminder...
You're invited to our Annual Poinsettia Open House, Sunday November 29th from 10 until 4. Join us for refreshments and live holiday music performed by local recording artist, Dan Duggan on his hammered dulcimer.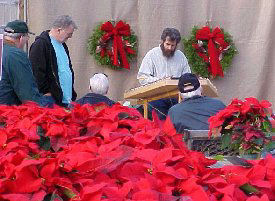 ---
Create your own holiday decorations and say "I made it myself!"
Check out our FunShops
---
Oliver's tips for keeping your Poinsettia beautiful.....
Be wary of plants displayed in paper or plastic sleeves. A poinsettia needs its space, and the longer a plant remains sleeved, the more the plant quality will deteriorate. Crowding can reduce air flow around the plants and cause premature bract loss or other problems. When transporting the plant, protect it from chilling winds and temperatures below 50 F. Re-inserting the poinsettia into a sleeve or a large, roomy shopping bag will usually provide adequate protection for transporting the plant home when it is cold and windy.
Place your plant in indirect sunlight for at least six hours per day. Provide room temperatures between 68 - 70 F. Poinsettias are sensitive to cold, so avoid exposing them to temperatures below 50 F. Generally speaking, if you are comfortable, so is your poinsettia.. Don't place plants near cold drafts or excessive heat. Avoid placing plants near appliances, fireplaces or ventilating ducts. Water your plant when the soil feels dry to the touch, but don't over water or allow it to sit in standing water. Always remove a plant from any decorative container before watering, and allow the water to drain completely.
---
Free upgrade....just for our e-mail friends!
Bring this e-mail along with your Open House mailer (good for one free 4" poinsettia) and we'll give you a FREE upgrade to a beautiful 6" poinsettia...a $6.99 value.
---