Fundraisers
Spring Plant Fundraisers
Does your group need to raise money? We can help! 315-592-2773.
~New~ On-Site Fundraiser Program …
For groups wanting to raise money in the Central New York area, we offer Spring Plant Fundraisers right here at our nursery and greenhouses. We help you with a fundraiser that has no orders to take, no product to deliver and no cash to account for. Just pass out the flyers and your customers do all the shopping! If this sounds like something that might work for your group.
contact us for the details.
Choose any plant in our greenhouses,
Be assisted by our staff of professional growers
You'll have nothing to load and unload.
You'll have no cash to collect
No orders to separate. Our new Spring Plant Fundraiser does all of this for you.
All your group has to do is copy and pass out the sales flyer that we provide.
Your customers bring their flyer into the greenhouses and shop our entire plant selection. At the checkout, 15% of their plant purchase will be credited to your group
Call today to see how much your group could make . 315-592-2773.


Pre-Sale Plant Program… Many groups from Central and Upstate New York have had great success with our pre-sale plant fundraiser program. We can help your group develop the best program your you…from deciding what flowers to offer, to helping with your order form layouts, and choosing the best dates to hold your sale. We've been helping non-profits raise money for years now, so we know what works and how to help you make money. ( Groups have earned up to $5185) Call today for details 315-592-2773.
Garden Mum Fundraisers
September is the perfect time to hold a Mum Fundraiser! School groups have found our pre-sale mums program to be an excellent fundraiser in the fall. For over 25 years Oliver B. Paine Greenhouses has been growing some of CNY's finest mums. Your customers will choose from several colors of our beautiful mums. To see how our colorful garden mums could help your group, contact us for details.

We'd be happy to offer your group our 'on-site' fundraiser program for this fundraiser as well.
Poinsettia Fundraisers
With so many products available for the holidays, a traditional Christmas Poinsettia makes the perfect choice for a fundraiser. A product everyone will buy for Christmas as gifts and for the home. Our complete sales packet makes selling easy and fun. Oliver B. Paine Greenhouses Quality Guarantee assures that your customers will be happy. To see how our beautiful poinsettias could help your group meet its goals, contact us for details.


Thoughts on Fundraising...
"Our two sons were very active in school. Every time we turned around their group was fundraising. The Grand Daddy of them all was marching band…12 years total. During that time we saw some good sales, some bad sales, some useful products and some- not -so useful ones. It was that experience that inspired us to develop our fundraisers that feature quality products that people really want and a system that makes running the sale as easy as possible. When it comes to fundraisers WE'VE BEEN THERE"

Cindy and Oliver Paine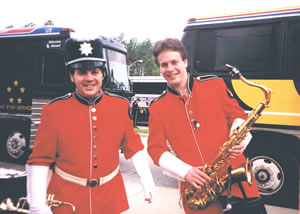 Mike and Oliver IV, Busch Gardens, VA, 1992